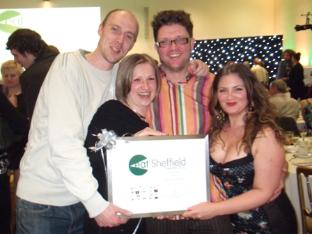 Stuart (chef), Jo ("Mrs Spoon"), Jules ("Mr Spoon") & Lindsay (chef)
Casual Dining Winner for 2012 - Finalist for 2013 and 2014!
Having been nominated to enter the Eat Sheffield Awards 2012, we were lucky enough to be part of the celebrations held at Sheffield Hallam University on Monday 29 October 2012. The week before the event we were informed we had been shortlisted as a finalist. To actually be presented with the award for Spoon being the Winner of the Casual Dining category was just fantastic!
We were both so happy, proud, shocked, emotional.... but most of all extremely grateful for all of the encouragement and support we have been given from family, friends and customers during our first year. To win this Award 'as our first birthday present' was more than we could have hoped for and definitely makes all the hard work totally worthwhile! And to receive our second and third Awards for being joint runners up in 2013 and again in 2014 has made a great annual birthday gift too!
Jo & Jules