*Temporary situation during COVID 19 restrictions for cafes, restaurants and bars*
As lockdown starts to ease slightly, we are testing out slowly re-opening Spoon. We will be offering a limited takeaway menu, drafted below, as well as the usual hot, cold and alcoholic drinks. We initially plan to open Wednesdays, Fridays and Saturdays, 10am-6pm, from Friday 12 June 2020.


Phone orders are very much encouraged for all orders to enable pick-up times to be allocated to further support social distancing.
Please call 0114 274 0014 to place your order.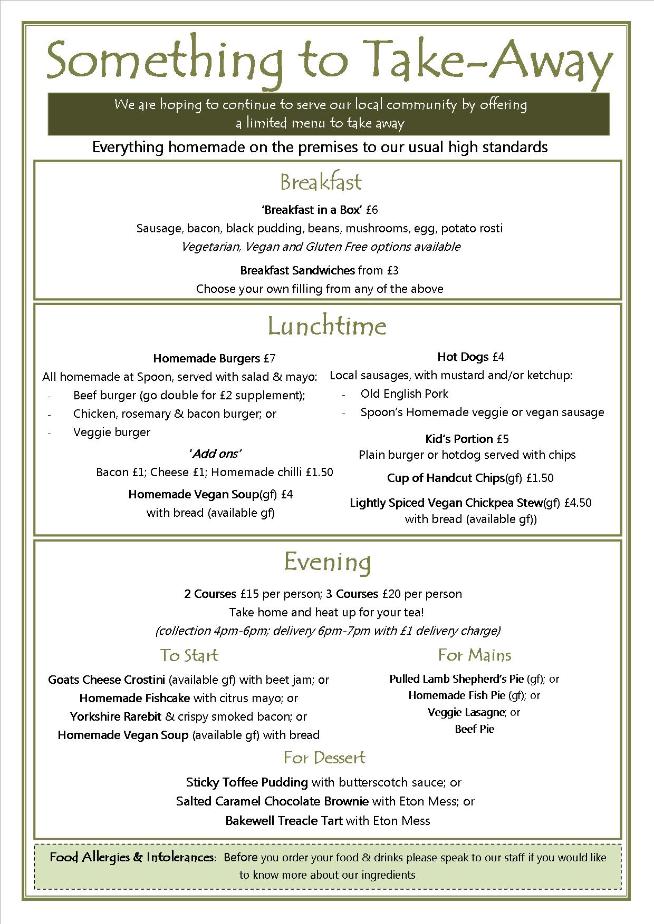 ----------------
Click on one of the links below to preview our usual menus when we are fully re-open:
Bistro Evenings (example menu)
*In addition to our usual opening hours, we are usually available for party bookings of 12 people or more any evening of the week*
- all parties catered for
Please contact us for more information
"A fresh British menu – adaptable to meet your taste"
We make all of our dishes fresh on the premises - down to the jams, sauces and ketchup. So please let us know of any special dietary requirements, for example gluten free or dairy free, or if you fancy something slightly different to that shown on the menu, and as long as we have the ingredients in the kitchen we would be happy to make any adaptations to cater for your needs