Tell us what you think...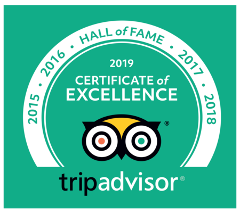 "We had a private party booking for a Graduation Celebration for my youngest daughter and her boyfriend. Absolutely everything about about our food was fantastic. We pre-ordered as there was 21 of us. Jules and his team were brilliant. The service was, as usual, brilliant!"

"Great quality, fresh, super tastes, love the new beef brisket dish"

"I celebrated my 60th birthday with Pie Night at Spoon. The staff were very friendly and eager to please. The food was amazing! Jules was as delightful as always, the perfect host. Thank you, I just need to think up another reason to go............."

"I loved my meal so much I came two nights in a row. Wish I lived nearer and I'd come more! Thanks for two tasty nights."

"I had bream, my sister red mullet. Both were delicious, cooked to perfection and beautifully presented. Michelin standard!! Good to meet the chef/patron - interesting chat. Fascinating to hear his philosophy of cooking and running a neighbourhood restaurant. We reckon he has it just about right!!"
"Jules always makes me smile, he and his staff are very friendly which makes the café's atmosphere warm and welcoming. The coffee is amazing and fresh. The café is child friendly and clean with modern décor. If I wasn't working on the weekends then I would go to Spoon for a lovely fry up x"
"Overall a fantastic experience!! Value for money and nothing was too much trouble, Can't wait to come back! The atmosphere was relaxing and welcoming and we weren't rushed (in fact we were the last to leave). What a wonderful experience which we will be recommending to our friends & family!!"
"Excellent food - cheesecake to die for!!! Extremely friendly staff. A really homely atmosphere and very relaxed place. Nothing to improve. I will be back!"
"Been to the pie night twice and its amazing!!! I want to go every week!!"
"Absolutely crackin' meal. Filling, full of flavour and quite possibly the best meal we have had out for a long time. Too full for puds so will have to come back for double I reckon! A gem hidden away in S8! Don't change fantastic atmosphere, great service, great food."

Eat Sheffield Awards 2012 Casual Dining Winner (after our first year of being open), 2013 Finalist & 2014 Finalist presented to... 'Spoon'!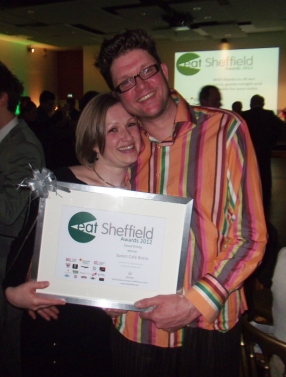 A very happy Jules & Jo!
(also becoming known as "Mr & Mrs Spoon"!)
'Spoon' is proud to advertise that it was awarded a Food Hygiene Rating of 5 stars by Sheffield City Council.
Click here for Sheffield Telegraph's review "Passion on a Plate" following their visit to 'Spoon'...
Click here for Sheffield's "Active8" review following their first visit to 'Spoon'
20 Abbey Lane, Sheffield S8 0BL
Tel: 0114 274 0014
contactus@spoon-cafebistro.co.uk
Click here for customer reviews posted on the 'Sheffield Restaurant Guide' website