Welcome to Spoon
We create delicious homemade British food in a relaxed and friendly atmosphere. Our adaptable menus offer a range of dishes, all homemade, created using fresh and locally sourced produce. Options range from a hearty breakfast, appetizing lunch or relaxing "coffee & cake", to an enjoyable evening meal accompanied by our select wine, beer and soft drink list. Take a look at our
menus page
for more information.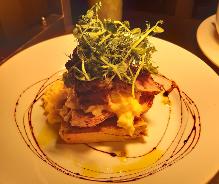 If you have any special dietary requirements, for example dairy free or gluten free, or if you fancy something slightly different to that shown on the menu, please speak to one of our staff and as long as we have the ingredients we would be happy to make any adaptations to cater for your needs.
Children are very welcome and catered for with high chairs and change facilities. Due to Covid precautions, we have removed our small selection of toys and books for now.
Our licensed family café bistro celebrated its tenth birthday at the end of September! We have been lucky to have attracted many supportive and loyal customers over the years, as well as new inquisitive customers visiting us on a daily basis. Thanks to this continued support and repeated custom, we have been proud to be able to keep going during the challenges faced throughout the last 2 years. We'd like to say a big 'Thank you'!
Bistro Nights @ Spoon
Book now for one of our Bistro Nights at Spoon, available evenings on the following dates:
May 2022
Friday 6th & Saturday 7th
Friday 20th & Saturday 21st
June 2022
Friday 17th & Saturday 18th
July 2022
Friday 1st & Saturday 2nd
Friday 15th & Saturday 16th
Friday 29th & Saturday 30th
August 2022
Friday 12th & Saturday 13th
Usual Opening Hours
Mondays: 9am - 4pm
Tuesdays: 9am - 4pm
Wednesdays: 9am - 4pm
Thursdays: 9am - 4pm
Fridays: 9am - 11pm (4pm on non-bistro nights)
Saturdays: 9am - 11pm (4pm on non-bistro nights)
Sundays: 10am - 3pm
We will continue to monitor the situation and aim to keep our website up-to-date as situations continue to develop and change. If you would like to know more or have any feedback / suggestions , please send us an email.
Thank you for continuing to support 'Spoon' during these challenging times. Stay safe and keep smiling!
Jo & Jules